F. Barker & Son British Prismatic Mk. 1 Compass
The precursor to such venerable devices as the IDF Prismatic, this Barker & Son compass is a terrific piece of history as well as a remarkably accurate instrument. The focusable prism allows one to simultaneously sight the target and read the bearing. The card, almost out of place in its beauty, is crafted of mother-of-pearl, which is quite reflective and allows readings to be taken in very low light. Graduated in mils: a difference of 1 mil works out very nicely to approximately 1 yard at 1000 yards (or 1:1000 meters) - handy for artillery!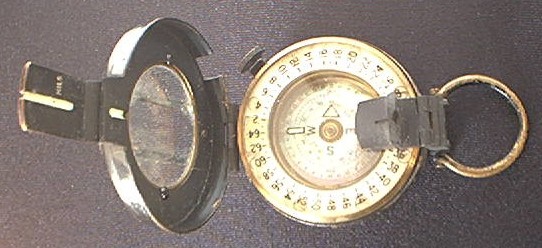 ---
"Night Marching" Compass by F. Barker & Son of Clerkenwell Road, London.
This compass is optimized for night use. The card consists of a bright metal outer ring on which are printed the cardinal points and degrees and which reflects a great deal of light, making it posible to read bearings even through the window in the cover. The interior of the card is a white circle with a large black triangle denoting north, again visible in minimal light. There is a large white arrow on the inside of the cover, just above the window, for aiming the compass at night; for use during the day, the window has an inscibed black line for sighting. The lanyard bail functions as the rear sight, via a peep hole, similar to a military rifle sight, or a notch on the top of the bow.